Presented by WIUX Venue Series Bat House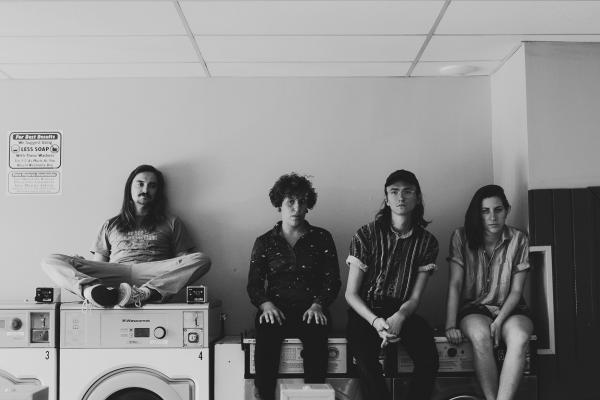 Wednesday, September 20th
8:00pm
This year WIUX is starting a venue series where we will be hosting a variety of shows at various Bloomington venues. We kick off the first show of this series with Boston psych rock band Bat House!
Tickets available at the WIUX Station (now located in the IU Media School) and soon will be availble online.
Pre-Sale: $5
Day-of-Show: $7
Bat House (Boston): https://bathouse.bandcamp.com/
Bat House is a Boston-based cosmic quartet who is shapeshifting and trailblazing their own brand of genre-bending psych rock. The band fearlessly pushes the envelope in their eccentric recordings and all encompassing live shows. Beginning at a young age, Alexandra Juleen (Las Vegas), Emmet Hayes (Los Angeles), Nicole Pompei (Pittsburgh), & Shane Blank (St. Pete, FL) each made music in their respective cities. the four crossed paths at Berklee College of Music, and together became fully immersed in the gritty and colorful world of Boston's music scene.
The four moved into a house together, thus embarking on their musical journey into basement recording and underground shows. Throughout the band's 2 years in their house turned venue turned recording studio turned music oasis, Bat House wrote, recorded, and produced their lo- cally acclaimed debut self-titled record. the Four displaced basement dwellers' hunger for big sounds brought Bat House to the surface.
On nights not spent recording, the house held shows featuring local and touring independent bands for crowds of sweaty, music loving college students. The friendships formed at these shows allowed Bat House to tour throughout North America, hit events like SXSW along the way, and come home to rowdy & electric sold out shows.
Since releasing 'bat house,' the band has moved into a new musical dungeon displaced in Boston dedicated to curating and cultivating their sound. It is here they shape new music until they hit the road this fall touring with new and ever evolving live performance.
More bands to be announced soon!