Presented by Live From Bloomington Power Point Roulette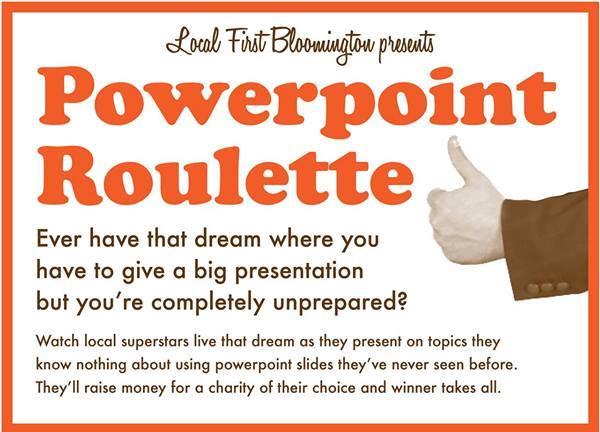 Wednesday, February 22nd
6:00pm
Ever have that dream where you have to give a presentation and you're not prepared? Live that dream out with Local First Bloomington and a bunch of brave, local big shots as they present on topics they know nothing about using PowerPoint slides they've never before seen!
Confirmed presenters include:
Shaun Fleming
Mike Adams
Brian Winterman for Prizm
Abby Perfetti for Sycamore Land Trust
Jennifer Brooks
Rachel Salinas
Stephen Westrich for Mother Hubbard's Cupboard
Joni Herkimer
with Mat Alano-Martin as emcee
The event is free and open to the public! We will have plenty of pizza inside and beers are just $3.
Thank you The Bishop for hosting the 4th Annual 'Local First Bloomington' Powerpoint Roulette! Invite your friends as all are welcome.