Poetry Slam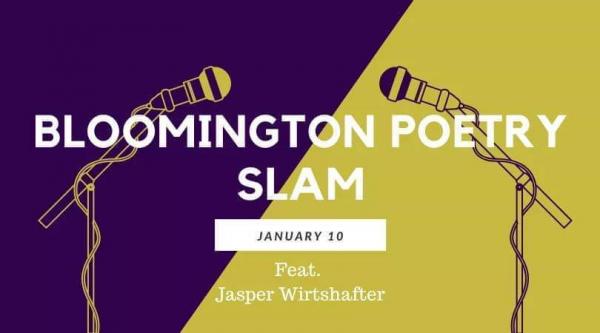 Friday, January 10th
8:30pm
New Year, New Slam!
Join your local wordsmiths for a night of poetry, libations, and passion! The night will begin with an open mic featuring local artists, singers, and writers, and end with a poetry slam.
Sign up by commenting below or emailing bloomingtonpoetryslam@gmail.com
Cover $5.
18+
Hosted by Andrea M. Sterling, Adrianne, and Liz!
Grooves brought to you by Slam Master Sully
Our January feature is beloved local poet Jasper Wirtshafter!
Jasper Wirtshafter is a trans poet, currently living in the least terrible town in Indiana. He performed with F Word Performers, a queer feminist art collective, for four years. His work has been published in Drunk in a Midnight Choir, Black Napkin Press and elsewhere..
For complete rules, click here: https://www.facebook.com/notes/bloomington-slam-poetry/2018-2019-bloomin...
Performers should arrive by 8:30pm so we can get everyone signed in