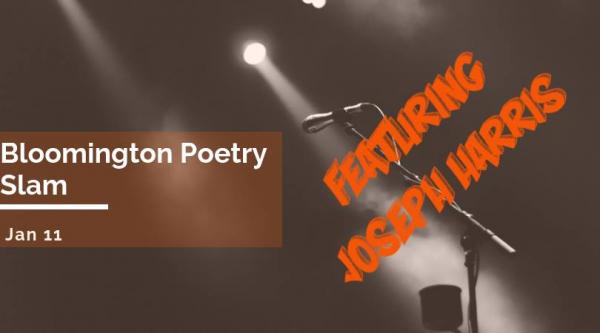 Friday, January 11th
8:30pm
Join your local wordsmiths for a night of poetry, libations, and passion! The night will begin with an open mic featuring local artists, singers, and writers, and end with a poetry slam.
Hosted by Andrea M. Sterling and Sully.
Sweet melodies spun by DJ Good Peoples.
This month's feature is Joseph Harris! Joseph Harris has been writing & performing poetry for over 15 years and started slamming in 2002. The Ann Arbor Poetry Slam was his first poetry venue, and from there he has spread his particular type of logic far and wide. He has been published in: MingleWood, Off the Mic, A2 Brute', Anthrax is Safer than Poetry and WusGoodBlack. He was on the Ann Arbor Slam Team from 2003-2007. He was the Rustbelt Individual Slam champion in 2005 and the National Head to Head Haiku Deathmatch Champion in 2006. In 2007 He founded the Spitfire Poetry Slam in East Lansing, MI. In 2008 he was part of Scott Woods national 24-hour poetry reading, where poets in various cities read poetry for 24 hours straight, in their collective hometowns. In 2010 he hosted the Midwest regional Rustbelt Poetry Slam where 12 teams from across the Midwest battled for the Rustbelt Championship. He has presented at poetry and writing workshops for various K-12 schools as well as Michigan State University, Depauw University, Olivet College and Grand Valley state University. He has hosted National Poetry Slam events including the Individual World Poetry Slam Championships and The Women of the World Poetry Slam Championships. He is also a former member of the executive board for Poetry Slam Incorporated. He is currently a Ph.D. student in the Teacher Education Department at Michigan State University where he teaches among other subjects "Reading, Writing & Teaching Poetry".
For complete rules, click here: https://www.facebook.com/notes/bloomington-slam-poetry/2018-2019-bloomin...
Performers should arrive by 8:30pm so we can get everyone signed in!