Presented by Bloomington Poetry Slam Poetry Slam
feat Britteney Black Rose Kapri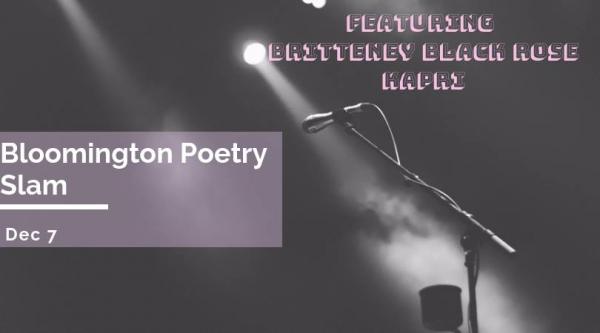 Friday, December 7th
8:30pm
Join your local wordsmiths for a night of poetry, libations, and passion! The night will begin with an open mic featuring local artists, singers, and writers, and end with a poetry slam.
Sign up by commenting below, sending a direct message, or emailing bloomingtonpoetryslam@gmail.com
Cover $5.
18+
Hosted by Andrea M. Sterling and Sully.
Sweet melodies spun by DJ Good Peoples.
This month's feature is Britteney Black Rose Kapri, who self-defines as "PRO BLACK. PRO QUEER. PRO HOE." Britteney Black Rose Kapri is a poet, teaching artist, petty enthusiast and Slytherin from Chicago. Currently she is an alumna turned Teaching Artist Fellow at Young Chicago Authors. She is a staff member for Black Nerd Problems and Pink Door Women's Writing Retreat. Her first chapbook titled "Winona and Winthrop" was published in June of 2014 through New School Poetics. She has also been published in the Breakbeat Poets volume One & Two, Poetry Magazine, Vinyl, Day One, Seven Scribes, The Offing, Kinfolks Quarterly and her number on many dive bar bathroom walls. She is a 2015 Rona Jaffe Writers Award Recipient. You can probably find her on twitter talking shit about all the things you love, in a classroom talking shit about your kids or at a barstool just talking shit
For complete rules, click here: https://www.facebook.com/notes/bloomington-slam-poetry/2018-2019-bloomin...
Performers should arrive by 8:30pm so we can get everyone signed in!