The Matchsellers
with The Hammer & The Hatchet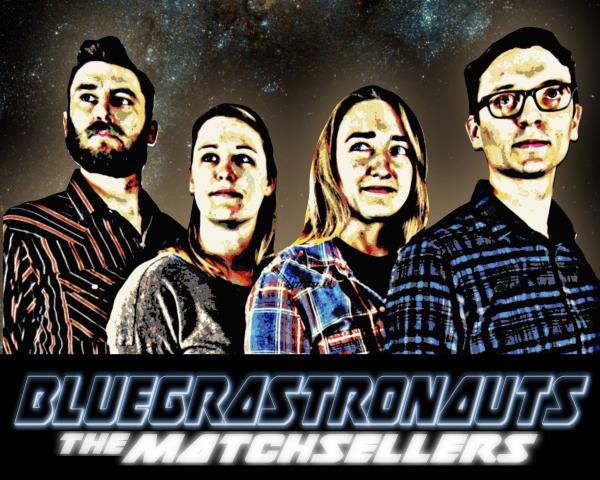 Monday, March 12th
8:00pm
The Matchsellers & The Breakfast Sides present a new CD of Interstellar Old-time music entitled "Bluegrastronauts"
Bluegrastronauts is old-time in outer space. It's a far away galaxy as close as your first cousin. It's a 100,000 mile an hour horse-and-buggy.
Since 2013 Andrew Morris and Julie Bates, better known as the Matchsellers, have traveled the US and Europe developing their brand of off the wall bluegrass & old-time music. In 2017 they began collaborating with two of the Midwest's finest musicians, Chad Graves and Betsey Beymer. Graves is one of the country's finest dobro players and has been featured in high-profile publications such as Rolling Stone, The Bluegrass Situation and many others. Beymer is a sought after bassist from Lakin, KS.
Together the 4-piece combines absurdity, authenticity and excellent musicianship to create a performance that is representative of the present age. They are pleasantly stuck between the best aspects of bygone years and the best of the future.
The Hammer and The Hatchet is an American Roots duo featuring John Bowyer on vocals, guitar and mandolin and Jayme Hood on guitar and vocals. Birthed by the hill country pickin' parties that are synonymous with these Brown County Hills, The Hammer and The Hatchet have created a sound that is reaching beyond the county line. John Bowyer, The Hammer, is a virtuoso mandolin player and guitar player who has used his talents as a side man, studio musician, and front man for projects like Old Truck Revival, Punkin' Holler Boys, Chris Dollar Band, Avocado Chic, and so much more. He recognized in Jayme Hood, The Hatchet, an undiscovered talent, who has quickly moved past protege to become his musical soulmate. The Americana sound that they have created is bluegrass inspired, harmony rich, and heartfelt.