Kelly Bosworth and Libby Weitnauer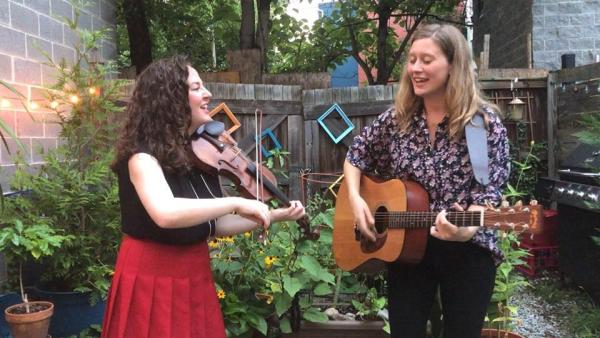 Saturday, March 23rd
8:00pm
Kelly and Libby began playing together during a 2018 summer program at the Smithsonian National Museum of American History under the musical instruction of Dom Flemons. Both have extensive backgrounds as performers, Kelly as a songwriter and guitarist and Libby as a professional violinist and old time fiddler. Together, the two intertwine old songs into new sounds and vice versa.
KELLY BOSWORTH is a folk singer/songwriter raised on family jam sessions and classical music. This sixth-generation Oregonian has called Bloomington her home since 2016. She previously worked as a social worker, donut taste tester, janitor, and teacher but is currently pursuing a dual PhD in ethnomusicology and history at IU. She can be heard in Bloomington playing with four-woman country band Ruth & the Stones at their monthly Bishop residency and with old-time trio Whistler every week at their Bloomingtea session. Her second solo release is expected in 2019.
LIBBY WEITNAUER is a fiddler and singer currently based in Brooklyn, NY. Libby has degrees in classical violin performance from DePaul University and New York University, but finds her voice in the traditional music of Appalachia. She has performed in a wide range of venues and concert halls, most recently the Smithsonian National Museum of American History after a summer of research and music-making under the supervision of Grammy Award winner Dom Flemons. She is currently a member of the old-time duo Tui with Jake Blount.