The Bishop Bar 10th Anniversary Party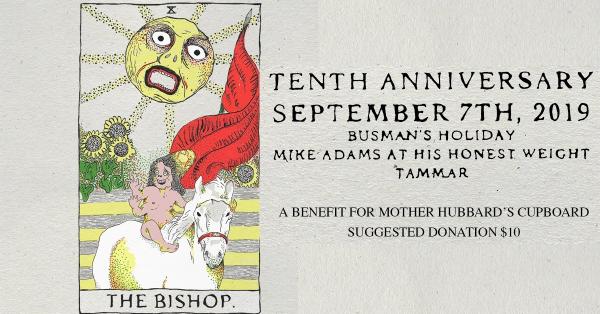 Saturday, September 7th
9:00pm
It's our 10th Anniversary!
Please join us as we celebrate with a benefit show for Mother Hubbard's Cupboard. It's gonna be perhaps *The* social event of that particular day.
The Bands: Mike Adams At His Honest Weight
Busman's Holiday
Tammar
DJ, dancing, and general merriment to follow.
Super-fancy cocktails, exceptional beer, and pretty
good wine will also be present.
We are asking for a suggested donation of $10 to benefit Mother Hubbard's,
About Mother Hubbard's: Mother Hubbard's Cupboard works to increase access to healthy food in ways that cultivate dignity, self-sufficiency, and community. We envision a community where everyone has equal access to nutritious food, waste is minimized, and all members are healthy, self-sufficient, and empowered to reach their full potential.
To learn more: Visit https://www.mhcfoodpantry.org